Guy en Shangai (Foto: Aquamarine Fund)
E
n la primera parte de esta serie de libros recomendados por Guy Spier mencionamos los doce libros que este superinvestor recomienda. En esta segunda parte y última finalizamos con los doce restantes.
13.
Pioneering Portfolio Management: An Unconventional Approach to Institutional Investment
(Free Press, 2009), por David F. Sewensen.
14.
Security Analysis
(McGraw-Hill 2008), por Benjamin Graham & David L. Dodd.
15.
Seeking Wisdom: From Darwin to Munger
(PCA Publications, 2007), por Peter Bevelin.
16.
Short Stories from the Stock Market: Uncovering Common Themes behind Falling Stocks to Find Uncommon Ideas
(CreateSpace Independent Publishing Platform, 2013), por Amit Kumar.
17.
The Dhandho Investor: The Low-Risk Value Method to High Returns
(Wiley, 2007), por Mohnisn Pabrai.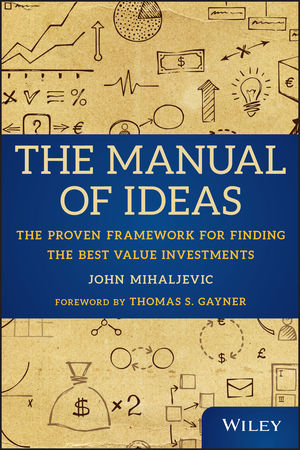 18.
The Manual of Ideas: The Proven Framework for Finding the Best Value Investments
(Wiley 2013), por John Mihaljevic.
19.
The Misbehavior of Markets: A Fractal View of Financial Turbulence
(Basic Books, 2006), por Benoit Mandelbrot y Richard Hudson.
20.
The Most Important Thing: Uncommon Sense for the Thoughtful Investor
(Columbia Business School Publishing, 2011), por Howard Marks.
21.
The Warren Buffett Way
(Wiley, 2013), por Robert G. Hagstrom.
22.
Value Investing: From Graham to Buffett and Beyond
(Wiley, 2004), por Bruce Greenwald, Judd Kahn, Paul Sonkin, y Michael van Biema.
23.
Where Are the Customers' Yachts? Or, A Good Hard Look at Wall Street
(Wiley, 2006), por Fred Schwed.
24. Your Money and Your Brain: How the New Science of Neuroeconomics Can Help Make You Rich (Simon & Schuster, 2008), por Jason Zweig.
♦
¿Quieres ser el primero en recibir las Noticias Value y el artículo semanal en tu correo? ¡Suscríbete mediante nuestra página o en tu RSS favorito!